FRIENDS ONLY

Comment to be added!
Current Mood:

cheerful
Today we found out the gender of Peanut! I wasn't meant to have my next ultrasound until the 8th of next month but I've not been feeling any movement for the past three day and after I fell down the stairs last week I was worried. In the end my nerves couldn't take anymore so I booked a private scan, which was this morning.
Ok, first things first.. We're having a beautiful baby girl!!!!!!!
She is healthy and doing great in there. Moving around loads and right on track! Honestly the scan was amazing. So much better than the hospital scans but I guess that's why they charge you an arm and a leg for them! I even got to see her in 4d! Absolutely amazing!
We've decided on a name! I'm not putting it on Facebook until after she's here but I'll share it here. We're calling her, Emily Victoria.
I am so so so happy right now!!!
Posted via LiveJournal app for iPhone.
Not having the Internet at home is really starting to annoy me. There are so many things I go to do and then realise.. "Oops I can't! Got no Internet." I cannot wait until we find a new service provider..
So I'm 13 weeks and 2 days pregnant. I *think* I've turned a slight corner with regards to the morning sickness. I still feel nauseous for most of the day but it doesn't seem to be as bad.. *touch wood*
I'm so tired though. I've never had a problem with early mornings before.. Until now.. Now I could sleep all morning if James let me :) By 2pm in the afternoon I'm done and could quite easily go back to bed! A few times over the past two weeks I've been in bed at 8pm.. Yep I'm old & boring..
My scan is on Friday!!! I should have had it at 12 weeks but the hospital is running behind with their appointments so I'll be one day shy of 14 weeks. I'm so excited though. My last ultrasound was at 7 weeks and Peanut was just a tiny little thing with a beating heart but now they will have legs and arms lol..
I think James has turned into a 14 year old over night! The past week or so he has developed such an attitude problem! His 4th birthday is in 10 days and I am in disbelief that he can be that old already. It scares me!
Oh and our bank has well and truly pissed me off. We have some debts that we are trying to sort out. We are also overdrawn in our account but we're trying to sort that out too. For the past month we've literally left any money that has gone into our account in there and not spent a penny. Literally we haven't brought food or anything. In three weeks we had cleared about £200 off the overdraft and had a plan sorted so we would have cleared our overdraft by the 20th of next month.. Well this morning Anthony went into the bank to get an up to date statement and he finds out that we are up to our limit in our overdraft again. The bank had taken the £200 we managed to clear in supposed "bank charges" so basically we've starved for the part three weeks for no reason. We're right back at the beginning again. I'm so disheartened over this. We don't get paid again until Friday and we've literally got nothing in the house.. Bloody banks.. They could see that we weren't touching any of the money that had been paid in. Twice a week Anthony was going into the branch to get a statement and they knew what our plan was with clearing the overdraft and they screwed us over.
And so I don't end this on a sour note.. How about a belly pic :)
Posted via LiveJournal app for iPhone.
I have nausea non stop all day :( I know it's morning sickness but because of my phobia part of me freaks out that I feel this way because I must be ill.. Silly I know but I'm doing so much better with regards to my anxiety I shouldn't moan.
James' last day at Nursery was today so he is now officially on Christmas break! I am so happy! No more rushing like a headless chicken in the morning.. Well not until January anyway :)
Anthony is cooking for me tonight.. Just the thought of cooking food is sending my morning sickness into overdrive.
This afternoon I met my Nan down at the shops so she could buy ' Christmas presents. She gets him clothes but likes me to choose them. He got a Spider man onsie for bed and also a pair of jeans and a hoodie. I've wanted a hoodie for a while for on those days when it's cold and I want to snuggle. I ended up getting the same one as James! His is size 4-5 years and mine is 11-12 years! Yes I fit in kids clothes lol!
Ok.. A Christmas movie is on so I'm going to snuggle with a quilt and my new hoodie!
Posted via LiveJournal app for iPhone.
Hormones. I feel like I've been on an emotional roller coaster all day, one minute happy, the next sad and then out of nowhere, angry.. Poor Anthony & James! My one pregnancy complaint so far is the bloating.. Oh the bloating, by the end of the day I am so uncomfortable and look like I did when I was four months pregnant with James. I know that you show earlier with your second and that it is mostly bloating at the moment but seriously. I'm going to be in maternity wear by 10 weeks at this rate!

My sister came over this afternoon and completed my booking paperwork for the midwife. She is an MWA, and part of her job description is booking new patients. It was weird seeing her in a professional setting. She is leaving her job on Friday though because she is 30 weeks pregnant and has decided not to go back to work after having her little girl.

I have so much cleaning to do. Part of me wants to do it tonight so I don't have to face it in the morning but apart part of me is thinking, sod it. That's not the best attitude to have though lol.

I just had to stop this because the door knocked. It was a man collecting money for charity and Santa was going down the street on his sleigh with Christmas music blasting.. I think James just about had a heart attack!

Ok.. On that note.. I guess I need to motivate myself to sort him out for bed and clean this mess..
My one word that sums up today is
Just typed an entry out and then my phone went and deleted it.. Not cool.
James came home from Nursery today with a Christmas card he made for me & Anthony. The inside made me laugh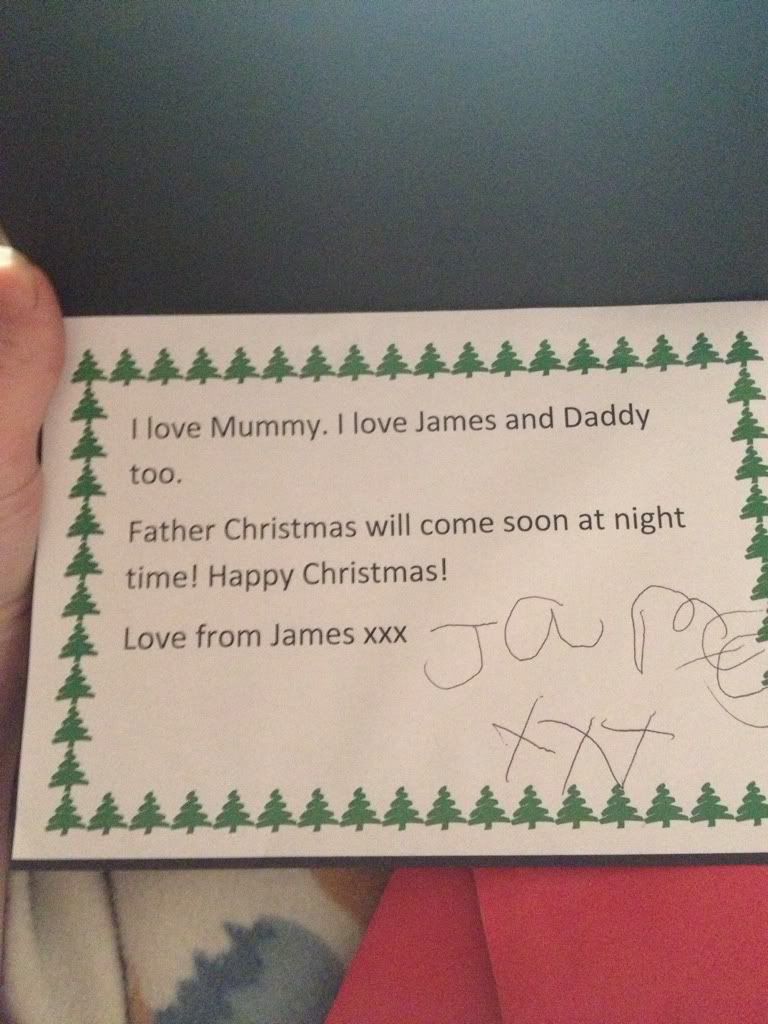 And.. Whilst I'm posting photos.. Peanut's first blanket that I'm knitting is coming along.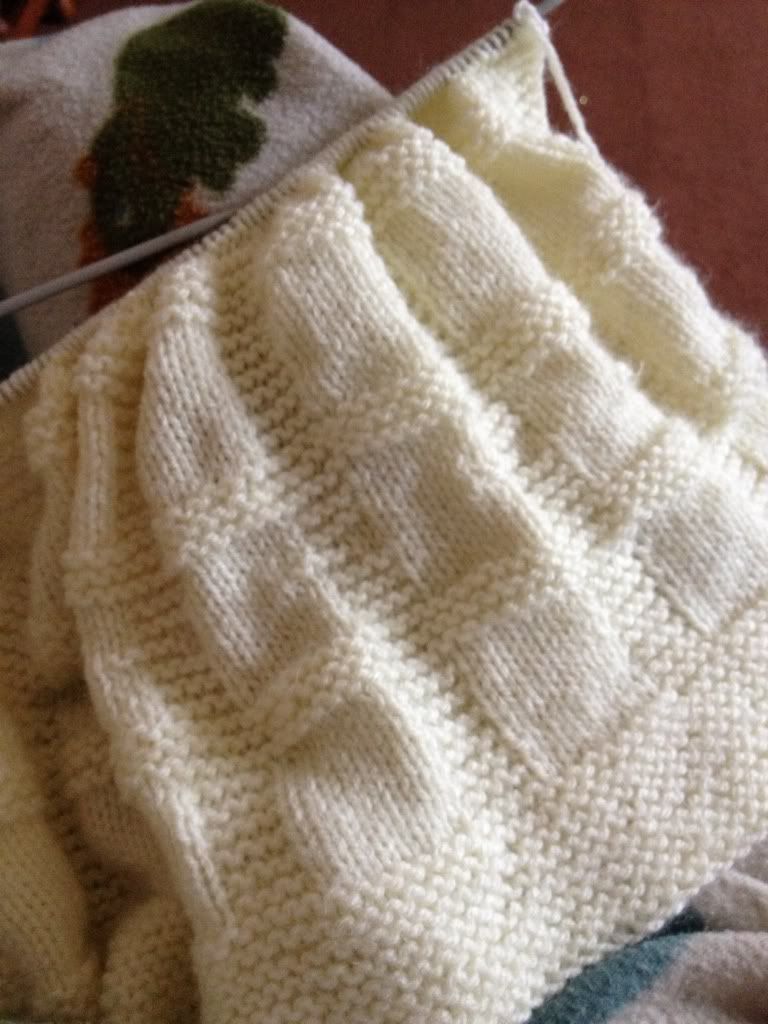 Posted via LiveJournal app for iPhone.


It's still very early, I am five weeks and three days today but I am so excited. I am due August 17th which makes me laugh because that is the day after my birthday and wedding anniversary and also it was the same day that I was due.

The morning sickness and heartburn have started already :( I normally feel fine in the morning but come the afternoon the nausea starts followed by extreme tiredness. I'm so thankful though that this time it only took eight months. I am hoping that the doctors will let me have an early scan at 8 weeks just because of my history with pregnancies and miscarriages.

Ummm.. What else? James finishes Nursery tomorrow for the Christmas break. I am looking forward to not having to rush around in the morning to get out the door on time. He doesn't go back until January 7th so it will be a nice break!

This morning I have a lot of stomach cramps.. I thought I might need the toilet (sorry tmi!) but its not that so I'm just going to take it easy and work on my LJ page. I've neglected it for far too long!
Two weeks ago I got the best Christmas Present ever! If you're on my facebook then you probably already know this but I'm pregnant!
Current Mood:

calm
Well.. I don't know where to start! Long time no speak I guess! I've been over at Blogger but this afternoon I had to log into Live Journal, I started reading my past posts and realised that I miss LJ and all my friends here! I guess I've been deleted from a lot of people's friends lists but to the people that kept me around.. Thank you!
Ok so an update.. James has settled in so well at nursery! The first couple of weeks were a bit rough and he cried every time I left but since then he goes running in and I hardly get a goodbye from him! On Friday we are going to watch his nativity play which I am super excited about!
He is reading and writing so well! Apparently his reading age is that of a 5 year old :)
Oh and for the past 5 nights he has been going to bed without a nappy and each morning he has woken up dry!
Anthony is good. He pretty much never changes lol.. His health is doing well at the moment which is something I am grateful for.
Me? I'm seeing my dietician and doing a lot better with my eating. I still have good days and bad days but I can manage small meals now which was unheard of before!
We're still trying for a baby. Eight months and counting. I guess we're going to have a hard time again just like we did with James. That makes me sad :(
If you want to check out my blog then the link is www.forthoselittlemoments.blogspot.com but I think I'm going to start writing here again. I like that its more private so I can share more :)
It feels good to write here again! xx
Posted via LiveJournal app for iPhone.
We all know my massive problems with eating! Although I've been doing slightly better the last few months, I still have a long way to go. I have good days and bad days.
Yesterday I came up with a plan :) This morning I went out and brought a blender. I came home and made a Banana Smoothie with Milk & Greek yoghurt. Voila fruit & calcium and a healthy breakfast :)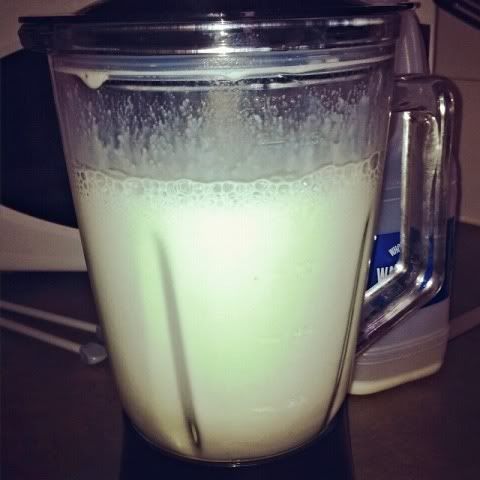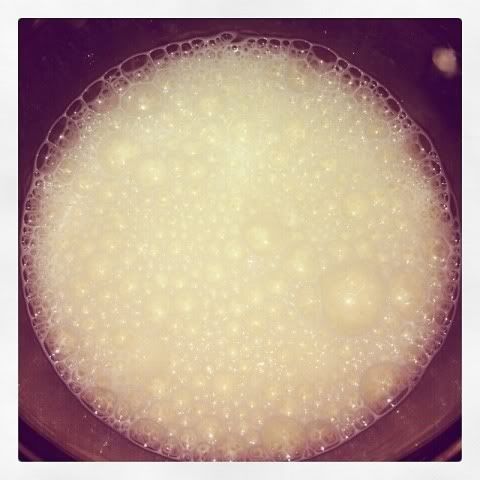 I'm looking forward to trying different combinations of fruit!!

And just for fun :)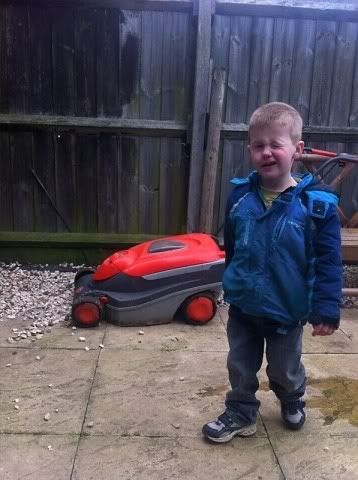 Posted via LiveJournal app for iPhone.
Cross posted! Sorry if you see this more than once..
So we're trying for baby number 2. I recently had the implant taken out and haven't had a period yet. Today I noticed my breasts were hurting so on a whim I decided to take a pregnancy test. Ive got some cheap strip tests which I've never used before and now I'm just confused. The pink control line has appeared, as has another pink line that wasn't there before I took the test! My problem is the 'other' pink line isn't where I figured it would be. It's a bit lower down than I would've thought. Granted its late afternoon here and I know this early on I should have waited until the morning but wouldn't that just affect the darkness of the line, not the placement. I'm going to go and get a Clear Blue test tomorrow. One where I know where the line would appear! But I figured someone might be able to help me in the mean time! Here's a photo. Sorry about the quality but it's off my phone.
It's the line on the left I'm confused about!